Next Fatfreeze Clinics Amsterdam and Rotterdam
Local weight-loss or visibly younger looking skin? No problem with the specialists at Next Fatfreeze Clinics in Amsterdam! With cryolipolysis, the permanent removal of fat by freezing, or with skin tightening. We can tackle the exact zone on your body that bothers you. Hips too wide? Double chin, stubborn tummy or wrinkles? We'll help you get rid of it!
Specialists in fat freezing and skin tightening
In our cryolipolysis clinic in Amsterdam-Zuid, we work with various specialists, each of whom have carried out thousands of fat freezing and skin tightening treatments. Everyone in our team is always delighted to see these happy, enthusiastic customers who often return for further treatments. We work hard for these results and happy customers, and to ensure the accessibility or our specialist clinic.
Certified devices, CE and FDA mark
All the treatments in our clinic are carried out with certified devices. This includes the Clatuu Alpha , a medically approved cryolipolysis machine with a CE mark which achieves results quicker because it has two treatment heads. And the Exilis Ultra 360™ for skin tightening. An effective device which achieves great results in a short time-frame, using a non-invasive approach. Both treatments require no recovery time and are safe and pleasant for the skin.
Unique combination in the Netherlands
Take the next step towards your new self with the sleeker, slimmer body that you always wanted, at Next Fatfreeze. Use our innovative Fat freeze method or the advanced approach using the Exilis Ultra 360™. Both treatment methods are entirely complementary; you want a sleeker body but you don't have enough fat to use the fat freezing technique? Then we can treat you using the skin tightening approach to achieve the desired results. This combination in skin tightening and fat freezing in one clinic is unique in the Netherlands.
The best care, thanks to our specialists
At Next Fatfreeze, we will help you achieve the figure you have always wanted. By permanently eliminating fat cells or by rejuvenating your skin with a boost to your collagen production. Localised fat freezing or skin tightening are safe and effective treatments thanks to the advanced equipment that is used by our experienced specialists. These specialists have over 10 years of experience and are also constantly updated with the latest developments and techniques in fat freezing so that you will always get the best care at Next Fatfreeze.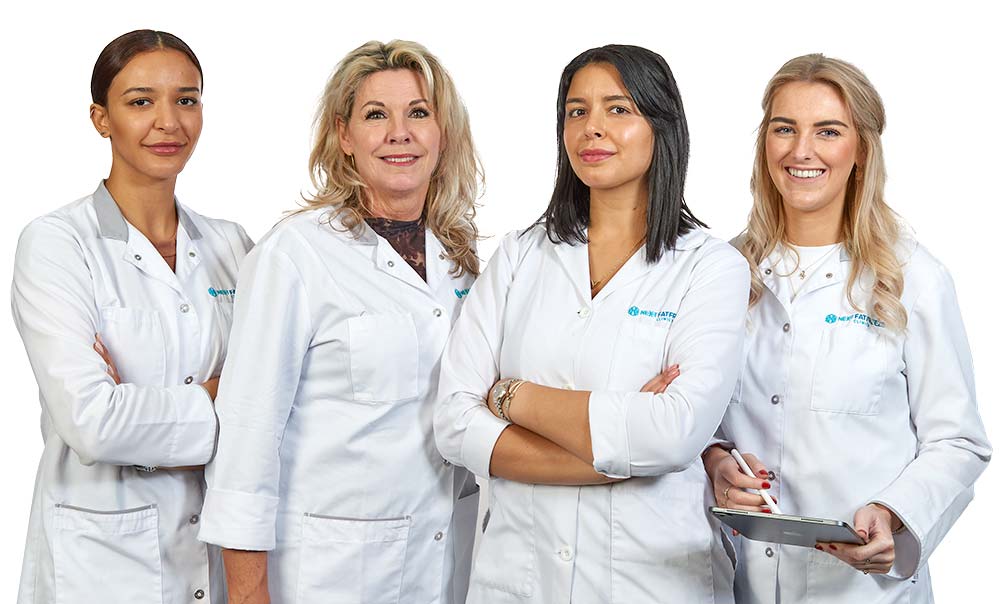 ZONDER VERDOVING OF OPERATIE
GEEN HERSTELTIJD OF IRRITATIES
SNEL ZICHTBAAR RESULTAAT (3-5 WEKEN)
EU & FDA GECERTIFICEERDE APPARATUUR
ZONDER VERDOVING OF OPERATIE
SNEL ZICHTBAAR RESULTAAT (3-5 WEKEN)
GEEN HERSTELTIJD OF IRRITATIES
EU & FDA GECERTIFICEERDE APPARATUUR
Personal attention
As well as experienced specialists and innovative devices, you will also receive personal attention at our clinic. Our specialists will support you from your first consultation  through to the post-treatment checks. We will discuss your wishes and answer your questions. We will work on your new self together!
Personal lifestyle advice too
Of course, you want to retain your lovely new look! And we can help you with this too. With personal lifestyle advice such as tips for healthy eating and appropriate exercise, we will look at your preferences, wishes and what you are already doing. We are not coaches and certainly not dieticians but we are experts in beautiful, healthy bodies. And we can use this expertise to help you!
Want to find out more or meet us? No problem. Just book your initial consultation!
Do you want to know more about fat freezing or skin tightening? And what these treatments could mean for your body? Then let's make a date! The first consultation is free and there is no obligation; we will use this time to draw up a personal treatment plan. Then you know what your costs will be before you make a decision. So make an appointment now to visit our clinic!